Sep 10 23
Happy Anniversary

REMINDER:
Make sure you have re-downloaded the new client from the 4th of September.
If you are using this client already, make sure to restart the client to check for updates automatically.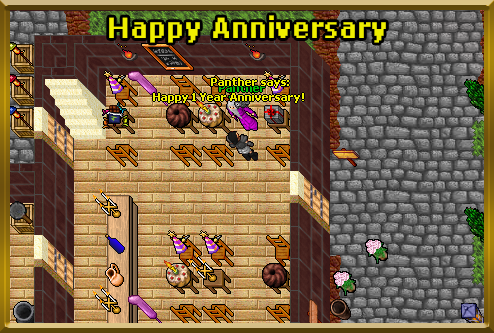 We would like to extend our heartfelt thanks to all of you for your incredible support. It's been an amazing journey, and we've come a long way in just one year. Your unwavering belief in us has fuelled our growth and determination. As we celebrate this milestone, we want you to know that we're here to stay, and our commitment to serving you remains as strong as ever. With your continued support, we look forward to many more years of success and collaboration. Thank you for being a vital part of our journey, and here's to a bright future together!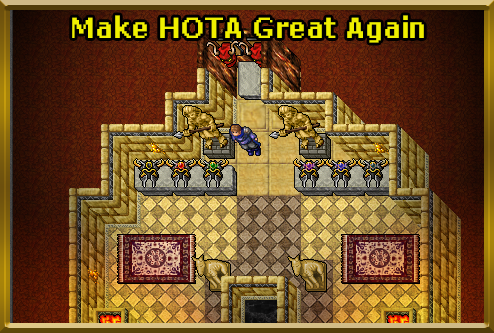 The Helmet of the Ancients quest has long been known as a challenging adventure with an underwhelming reward. For years, brave adventurers embarked on this difficult journey, only to find themselves with a helmet that didn't quite match the effort put in. However, in response to the feedback and dedication of the player community, the helmet has undergone significant changes to make it a more worthwhile reward. The true extent of the enhancements will be up to the players to discover. The Helmet of the Ancients now offers a more satisfying experience for those dedicated players.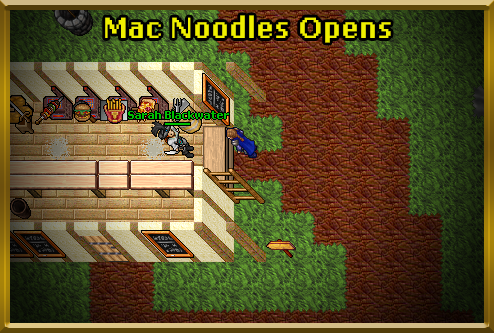 We are thrilled to announce the long-awaited opening of Mac Noodles, a delightful food shop that pays homage to the rich lore of Tibia. Inspired by the tales and adventures within the game, Mac Noodles offers a mouth-watering menu that combines creativity and flavour to transport you to the fantastical world of Tibia. With savoury dishes reminiscent of iconic in-game locations, we invite you to savour the taste of adventure with every bite. Join us as we bring the magic of Tibia to your dining experience, and embark on a culinary journey like no other at Mac Noodles!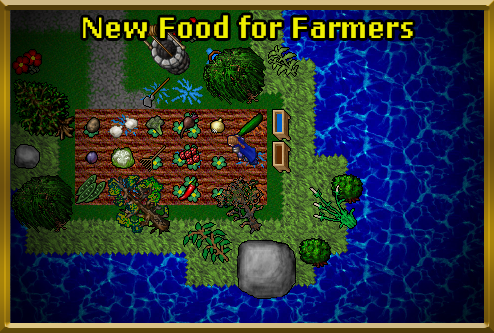 Further to the announcement above, we've also added exciting new food items to enhance your RPG experience. Whether you're a knight, paladin, or mage, there is something for everyone. Some of these items can be bought, while others can only be looted from monsters, adding an element of excitement to your culinary quests. So, fuel up and enjoy this tasty update – because heroes need good food to conquer challenges!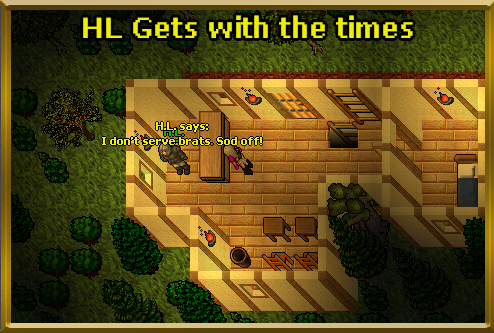 H.L. has undergone a modern makeover! In response to player feedback, HL now extends even better offers to trusted friends, making your interactions more rewarding. But that's not all – HL is now open to trade with everyone, including the formidable women adventurers of our world. So, whether you're an old friend or a newcomer, come visit HL and experience the updated and inclusive trading experience!
Prepare yourselves, for the realm is about to be engulfed in chaos! The malevolent demon Orshabaal, ancient and relentless, is on the brink of invading our lands. As the dark clouds gather and the ground trembles, heroes must unite like never before to face this formidable foe. Gear up, sharpen your swords, and summon your most potent spells, for the battle against Orshabaal promises to be a showdown of epic proportions. The fate of our world hangs in the balance, and the suspense for this impending invasion is electrifying. Are you ready to stand against the darkness and emerge victorious?